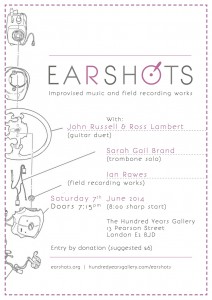 Ross Lambert + John Russell (guitar duet); Sarah Gail Brand (trombone Solo); Ian Rawes (field recording works)
Saturday 7th June, 7:15pm at the Hundred Years Gallery, 13 Pearson Street, London E2 8JD
http://www.hundredyearsgallery.com/earshots/
Entry by donation (suggested £6)
For event updates, join us here:
https://www.facebook.com/events/282186528623555
Ian Rawes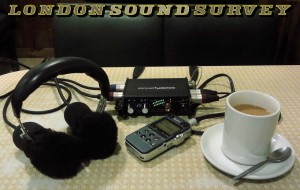 The London Sound Survey (www.soundsurvey.org.uk) is a web-based field recording project begun as a hobby five years ago by Ian Rawes, who was then working as a storeman in the British Library's sound archive. Since then, it has grown to around 1,500 recordings made by Ian and other contributors, including wildlife recordists Richard Beard and Stuart Fisher, and musician Andre Louis. The London Sound Survey has been featured on local and national television and radio, and on the Daily Mail website, prompting one comment which compared it to watching paint dry. At Earshots Ian will talking about and playing a selection of modern-day and early 20th-century London recordings.
Ross Lambert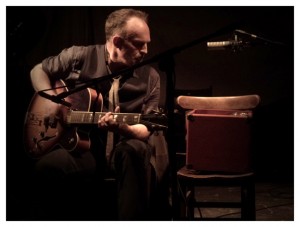 Northern Irish (and London-based) guitarist and 'magnetic and vibrating sources' player Ross Lambert, has in his own words, the following fundamental and simultaneous approaches to live performance: to play as though it was both the first time and also the last; and to able to differentiate between what is good and worth conserving and what is not. Ross has been involved in, initiated and been a connector between a very wide variety of improvisatory music since his first exposure and (immediate) commitment to it, in Sheffield via Derek Bailey during the mid-1980s. Although under-recorded (he claims 'by choice'), Ross has worked with a huge number of musicians from around the world, including Tetuzi Akiyama, Ami Yoshida, Jean-Luc Guionnet, Paul Hession, Rhodri Davies, John Butcher and Evan Parker, as well as his close friends Eddie Prevost, Seymour Wright, and Sebastian Lexer.
Sarah Gail Brand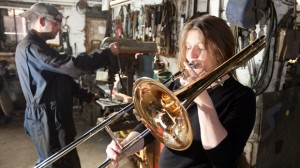 Described as "the most exciting trombone player for years" (The Wire), Gail has recorded and performed on the international jazz and improvising scene since the early 1990s with Mark Sanders, John Edwards, Billy Jenkins, Elton Dean, Evan Parker, Phil Minton, Lol Coxhill, Martin Hathaway, Alexander Hawkins, Maggie Nicols, Wadada Leo Smith, Jason Yarde and countless others. Gail has composed music for short films, including an original score for Charlie Chaplin's 'Easy Street', performed live to film at the Barbican Cinema, London and has music projects in development for theatre. Recent work includes: work with comedian Stewart Lee and appearing in 'Stewart Lee's Comedy Vehicle' (BBC TV) (series one; series two): duo with US improvising vocalist Morgan Guberman; long standing duo with drummer Mark Sanders; Gail Brand Sextet performing her pieces with edgy improvisation at the heart of the music. Gail is an occasional interviewer on BBC Radio 3's Jazz on 3 programme.
Sarah Gail Brand has worked as a qualified Music Therapist since 2001 and is also a professor at the Guildhall School of Music and Drama, London, teaching on the Music Therapy MA and Jazz Studies Programmes.
"One of the most passionate and dynamic musicians alive." Time Out
John Russell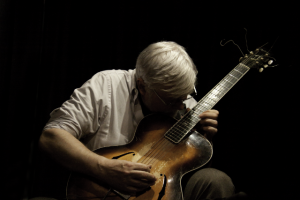 John began playing the guitar in 1965, playing free improvisation in and around London from 1972 onwards.
From 1974 his work extended into teaching, recording, broadcasts (radio and television) and touring in the UK and abroad both as a soloist, and in collaboration with many fine musicians and groups.
In 1981 he founded ʻQuaqua', a bank of improvisers put together in different permutations for specific events. Since then no two of these groups have ever been the same. Each group comes together for the duration of a specific project, and always features some of the most creative and individual improvisers around in previously unheard permutations.
In 1990 he inaugurated and is the driving force behind ʻMopomoso', which has become the UK's longest running concert series dedicated to free improvisation and related musics. An audio, video and photographic archive of past events is currently being built. Video clips of most events began in 2008 and can be found by following this link to the past concerts page on the Mopomoso website http://www.mopomoso.com/category/concerts/
Apart from solo work and heading Quaqua, he is presently involved in a number of regular groups including a trio with Evan Parker and John Edwards, duos with Stale Liavik Solberg, Stefan Keune, Phil Wachsmann, Pascal Marzan, Thurston Moore and Phil Minton, trios with Michel Doneda and Roger Turner (The Cigar that Talks), with Maggie Nicols and Mia Zabelka (Trio Blurb) with Mats Gustafsson and Raymond Strid (Birds) and with Henry Lowther and Satoko Fukuda, The European Contemporary Improvisation Orchestra and various projects with master percussionist Sabu Toyozumi and trombonist/ cellist/film maker Gunter Christmann.