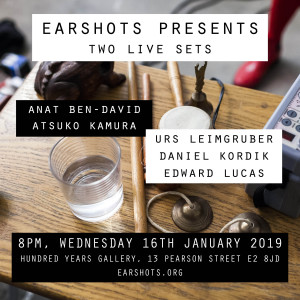 Anat Ben-David & Atsuko Kamura (both voice & electronics) duo Following the digital release on Earshots of their live improvised set.
Urs Leimgruber (saxophone) Daniel Kordik (synthesizer) & Edward Lucas (trombone) trio
8pm, Hundred Years Gallery, London E2 8JD / £5 entry
————–
Atsuko Kamura
Japanese agit-femme vocalist and electricist. Former member of Frank Chickens and Mizutama Shobodan (Polka Dot Fire Brigade): first Japanese feminist punk band. Voice-modulated improvisation and eco-surrealist chansons are weaved into the bizarre world of the experimental.
————–
Anat Ben-David
Anat is an interdisciplinary musician and artist, interested in the 'Human-Machine' as the complex data of the moving body and mind. Through avant-garde methods, Anat researches the idea of Alienation whereby the artist is creating though 'distancing'– letting the material and systems involved lead an artistic process generating unforeseen narratives. The work usually evolves around the lyrically performed text, voice, body movement, musical and sound compositions, taking the form of live performance with installation elements.
Anat's latest work Kairos OpeRaArt was last staged at the Victoria and Albert Museum for Reveal Festival (July 2017) with Boudicca designers. The libretto was inspired by Sadie Plant's cyber-feminist book Zeros and Ones, originally commissioned by Stanley Picker (2015-17) after her PhD Oscillation and Disturbance In the OpeRaArt, Kingston University, 2015. Anat has also worked on several albums as a member of Chicks On Speed art-collective (since 2003). She has presented her work at the V&A, Tate Britain, ICA and internationally at many museums and galleries.
https://www.somersethouse.org.uk/residents/anat-ben-david
————–
Urs Leimgruber
Born in Lucerne, Switzerland, is a key member of the European scene of contemporary improvised music. He specializes in solo concerts and performs regularly; Trio Leimgruber-Demierre-Phillips , Quartet Noir with Marilyn Crispell, Joëlle Léandre, Fritz Hauser, 6ix Jacques Demierre, Hannah Marshall, Thomas Lehn, Dorothea Schürch, Roger Turner, Schweizer Holz Trio with Omri Ziegele, Hans Koch in Duo with Evan Parker, Roger Turner, Thomas Lehn, Gerry Hemingway, Joëlle Léandre in Europe, Canada, USA, Japan, and South-America. His countless collaborations have resulted in successful concerts and recordings with Fred Frith, Steve Lacy, Lauren Newton, Keith Rowe, Günter Christmann, Sunny Murray, Günter Müller, Sunny Murray, John Tchicai and many others. Several Projects with the ARTE Saxophone Quartet. During the 1970s, he was the co-founder of the Electric jazz and free-music group, OM.
www.efi.group.shef.ac.uk
————–
Daniel Kordik / Edward Lucas
Kordik / Lucas are cofounders of the Earshots label and concert series. They have played since 2012 in a long standing synthesizer and trombone duo, as well as being part of numerous other projects in improvised and electronic music.
https://www.cafeoto.co.uk/artists/daniel-kordik/
https://lucas.earshots.org
————-